BEB Capital Leases Prominent Great Neck Site to Audi Dealership
Move is Part of Portfolio Realignment for BEB; Enables Major Expansion for Biener Audi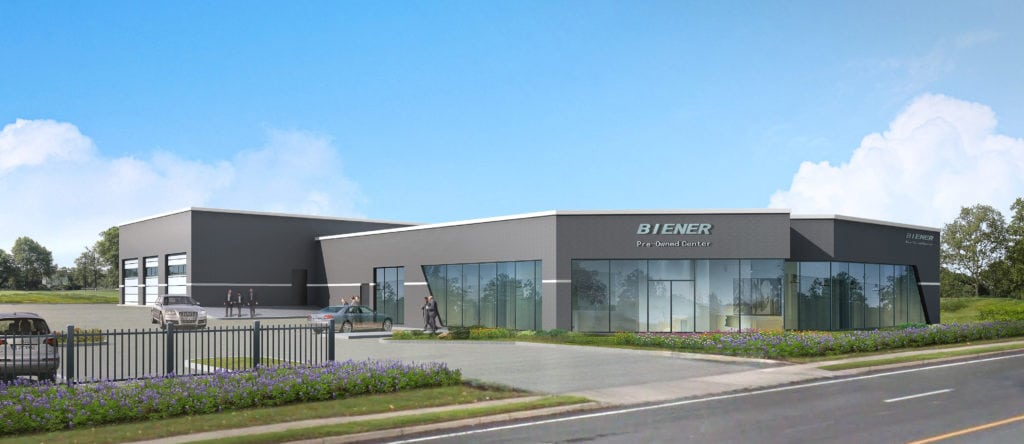 Featured in Long Island Business News
Featured in The Real Deal and in the Real Deal's Long Island Cheat Sheet
Featured in Connect New York Commercial Real Estate News and in the Connect Commercial Real Estate News Newsletter
Featured on The Island Now here and here
Featured in Real Estate Weekly
PORT WASHINGTON, NY – June 26, 2018 – BEB Capital has leased the prominent site of its former steak and sushi restaurant at 661 Northern Boulevard in Great Neck to Biener Audi, the largest and one of the most distinguished Audi dealerships in the Northeast. The transaction enables a major expansion for Biener, which has its primary location nearby at 795 Northern Blvd.
The 30-year lease gives Biener Audi just over an acre of additional space, at the location formerly occupied by Union Prime Steak & Sushi, which closed in May. The restaurant had been operated by an affiliate of BEB Capital for the past four years.
The switch in site usage represents a "logical portfolio adjustment" for BEB Capital, according to the firm's CEO, Lee Brodsky. "Since our focus primarily is on real estate, we took this step to ensure the long-term stability of our very well-located property in Great Neck by signing a long-established, highly regarded tenant like Biener Audi," Mr. Brodsky explains. "We appreciate the popularity our restaurant enjoyed, but as real estate owners and managers first and foremost, we recognized that there is a better use for this choice asset."
Dan Oliver of Newmark Grubb Knight Frank served as leasing broker for BEB Capital, and Stephen Wolf of SW Realty Capital represented Biener in the transaction.
Biener Audi has been in business for 89 years. The multi-generation family-run establishment, winner of several awards from the auto dealership industry, is headed by Stanley and Andrew Weinstock.
"We are extremely excited to continue the growth of our family owned and operated business," say the Weinstocks in a joint statement. "This location will give Biener the opportunity to sell the finest pre-owned vehicles on Long Island in a premium environment that our loyal customers expect."
BEB Capital, privately-held and based in Port Washington, New York, has a real estate and investment portfolio consisting of multifamily and mixed-use developments, parking facilities and restaurants totaling over $340 million in assets throughout the East Coast. Although it owns and operates a diverse set of businesses on a limited partner basis, enabling diversity among its investment portfolio, BEB Capital has been sharpening its core competencies in recent years, in preparation for new strategic ventures in real estate.
One of those ventures already is underway. BEB Capital is establishing a strong presence in the multifamily sector of Manhattan's East Harlem neighborhood, having recently acquired a new apartment building and a prime development site there. Mr. Brodsky says the community has been undergoing a significant revitalization, and he notes that the planned extension of the new Second Avenue subway line into East Harlem is expected to heighten the desirability of the neighborhood even further.
Previously known as BEB Real Estate, BEB Capital was launched in October of 2016 by the Brodsky family, known for its long history in real estate development, and headed by patriarch and serial entrepreneur Bert E. Brodsky. Now serving as the entity overseeing all aspects of the family business, BEB Capital reflects not only the real estate business the Brodsky family has built over the past five decades, but also its financial investments in several other corporate sectors, including healthcare, technology, and hospitality.